Saturday, July 19, 2008
Pretty in Pink ♥ 1:02 PM
I didn't actually get a chance to wear this out, except to get the mail, but I wanted to show the dress here. It's one of my favorites because it's feminine, comfortable, and light enough that I can still throw the sweater on in the summer and not overheat.

Dress: Thrifted, Volunteers of America Outlet (50 cents!)
Belt: Thrifted, Volunteers of America Outlet
Bee Pendant (originally Bath & Body Works): Thrifted, Goodwill
Sweater: Target (new) by way of Goodwill
You can't really see it in the outfit picture, but I tried something new with my hair. I can't remember the last time I braided it --probably sixth grade. Lately, though, I've been seeing crown braids all over the runways and magazines, and after
Who, What, Wear
ran an article on them, I made up my mind to try them for myself.
Today was the first day I've been up early enough (without having to work) to make an attempt. My hair isn't quite long enough for anything elaborate, so I simply created two small braids on either side of my head and twisted them up, overlapping them and pinning across. Afterward, I curled the remaining hair to create some volume. It took maybe fifteen minutes, and I'm really happy with the results, as seen below.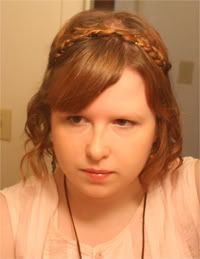 6 comments