Saturday, July 19, 2008
Pretty in Pink ♥ 1:02 PM
I didn't actually get a chance to wear this out, except to get the mail, but I wanted to show the dress here. It's one of my favorites because it's feminine, comfortable, and light enough that I can still throw the sweater on in the summer and not overheat.

Dress: Thrifted, Volunteers of America Outlet (50 cents!)
Belt: Thrifted, Volunteers of America Outlet
Bee Pendant (originally Bath & Body Works): Thrifted, Goodwill
Sweater: Target (new) by way of Goodwill
You can't really see it in the outfit picture, but I tried something new with my hair. I can't remember the last time I braided it --probably sixth grade. Lately, though, I've been seeing crown braids all over the runways and magazines, and after
Who, What, Wear
ran an article on them, I made up my mind to try them for myself.
Today was the first day I've been up early enough (without having to work) to make an attempt. My hair isn't quite long enough for anything elaborate, so I simply created two small braids on either side of my head and twisted them up, overlapping them and pinning across. Afterward, I curled the remaining hair to create some volume. It took maybe fifteen minutes, and I'm really happy with the results, as seen below.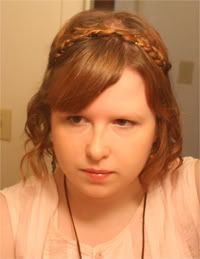 6 comments
Friday, July 18, 2008
Good willing ♥ 5:56 PM
My favorite thing about the Goodwill in my town is that I'm constantly finding Go! International pieces at great prices. I know Target has an arrangment where they donate their unsold clearance merchandise to local Goodwills, but I'm not talking about recent collections. My last excursion yielded about twenty pieces from the Libertine line, another six or so from Luella Bartley, and a few scattered pieces of Proenza Schouler, Alice Temperley, and Behnaz Sarafpour. Granted, most of these weren't in my size, but it's still exciting to know they're out there for decent prices --and in pristine condition, tags still attached. I'm assuming they were unearthed somewhere deep within the stockroom of our local Target and shipped out because they were from last season. Exciting news for me (and other Target lovers)!
One of my most recent finds was this black dress that everyone seemed to love. (And that's me doing my best
Only Shallow
impression.)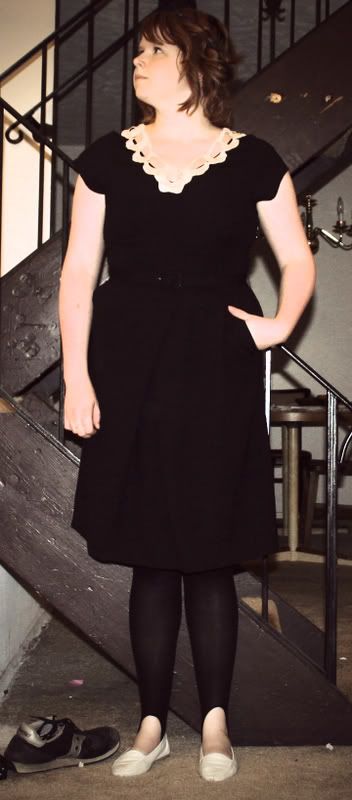 Dress: Libertine for Target, Thrifted new, Goodwill.
Tights (stirrups!): Thrifted new, Goodwill.
Shoes: Thrifted, Volunteers of America Outlet.
In my hometown, it sold out almost immediately, and I quickly dismissed any hopes of ever finding it again. I scored it a few weeks ago for about $8, and I couldn't be happier. It's a little snug, but I like the shape of it nonetheless. And the black skinny belt included with the dress has become almost indisposable to my wardrobe! The styling here is nothing out of the ordinary, I know, but I have some fantastic plans for winter. I'm thinking cream tights, black booties, and my cream beret: possibly a long, belted cardigan as well.
2 comments